Featured Stilettos- JustB (closed up) Platform stilettos-blood
Featured Outfit- TrendStyle-Christmas Dream-Red
Fashion Place (49,128,255 – mature)
Santa baby, slip a sable under the tree, for me
I've been an awful good girl
Santa baby, and hurry down the chimney tonight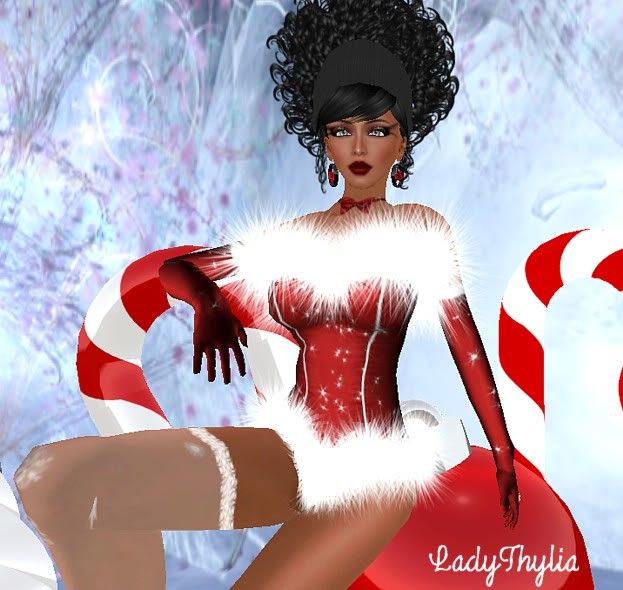 Santa baby, an out-of-space convertible too, light blue
I'll wait up for you dear
Santa baby, and hurry down the chimney tonight

Think of all the fun I've missed
Think of all the fellas that I haven't kissed
Next year I could be oh so good
If you'd check off my Christmas list
Boo doo bee doo


Santa honey, I wanna yacht and really that's
Not a lot
I've been an angel all year
Santa baby, and hurry down the chimney tonight


Santa cutie, there's one thing I really do need, the deed
To a platinum mine
Santa cutie, and hurry down the chimney tonight

Santa baby, I'm filling my stocking with a duplex, and checks
Sign your 'X' on the line
Santa baby, and hurry down the chimney tonight


Come and trim my Christmas tree
With some decorations bought at Tiffany's
I really do believe in you
Let's see if you believe in me
Boo doo bee doo

Santa baby, forgot to mention one little thing, a ring
I don't mean a phone
Santa baby, and hurry down the chimney tonight
Eyes- Rozena Skin- shiny eye- black
Skin- sSs skins- Emily – olive 06
Lashes- -ES- - Fish lashes
Hair- Beautiful Dirty Rich- Paris – black
Earrings- Splash – Vintage earrings- red bows
MakeUp- Alieda Zizi- dark skin A 011
Stockings- *LL*- Christmas White Stockings
Shape- self made
The Holiday season is now upon us and I want to share a little tid-bit that placed a smile on everyone's face that heard this story….
My dad is in his late 50's and he's a pretty big guy and to look at him right away you feel intimidated. His hair was once a nice dark brown but over the years it has turned snow white and with his groomed full beard now the same color when you look at him he reminds you of no other than the famous Santa Clause.
He has been a long haul trucker since as far back as I can remember…and still is. Yesterday while having dinner in a restaurant out of state on a run with another driver buddy of his he got the sweetest gift I think anyone could get…a note written by a little girl named Sarah on a napkin.
As the parent's of the little girl went to leave the restaurant the little girl dropped off the napkin at my dad's table and walked away. Smiles were exchanged and my dad's was soon replaced by a look of confusion.
He picked up the napkin and on it written in pen was a message that read…
'Dear Santa,
I have been an amazingly good girl this whole year; please don't forget my cell phone this year.'
He smiled and turned it over and continued to read…
'P.S. It was funny seeing you in normal clothing, I bet Mrs. Clause is home washing your Santa suit. Merry Christmas.'
Sarah
She drew a little Christmas tree on it by her name to end the message on a napkin.
My dad shared this with his buddy and of course the waitresses had to read it and my dad said that was the first time he had seen so many smiles and even a few tears in a single place at one time in a very long time.
Indeed a child does know how to make a person smile…and spread the joy. He was so ticked by this he called home told my mom, called me…and I could hear the happiness in his voice from this scribbled message on a napkin. It couldn't have come at a better time as my dad's fighting a rare disease and its been kicking his ass as of late so…to this little girl Sarah…I thank you from the bottom of my heart for the happiness you gave to all that this message has touched and I hope Santa brings you your cell phone because you are an amazing little girl and I hope you know it.